Teaching Methods at GSD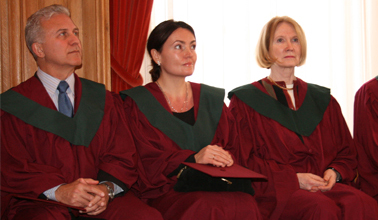 Teaching staff of the Geneva School of Diplomacy & International Relations employ a number of methods of instruction. Consistent with the School's quality assurance and enhancement practices, each method is designed to ensure that the student derives maximum benefit from the lectures and seminars, and that he/she uses independent study time to its full advantage.
Learning, Teaching & Assessment Strategy (LTAS) at GSD

The learning, teaching and assessment strategy at GSD is guided by its Mission Statement, i.e.
The mission of Geneva School of Diplomacy facilitates the cultivation of an enlightened self-interest among its students. While preparing solid careers for themselves, GSD students are taught that helping oneself and helping the less fortunate of the world are not mutually exclusive concepts. To pursue both goals is not only possible, but also needed and enriching.
GSD prepares leaders of the future - yet teaches its students (in accordance with the GSD motto, serviendo guberno) - that to govern is to serve. The ultimate aims of Geneva School of Diplomacy and International Relations are, therefore, the solid advancement of peace and human rights.
Developmental Forces
The Geneva School of Diplomacy and International Relations (GSD) has prided itself on rigorous teaching and on a faculty renowned for their concern for the individual needs of students. This tradition is enhanced by the specialist and interdisciplinary nature of the curriculum. Our culture of responsiveness to students forms the basis of a stimulating and cosmopolitan atmosphere for the exchange of learning, teaching and assessment.
The Geneva School of Diplomacy has traditionally focused on training world class international public and private sector leaders who will influence the world in a more human and productive direction.
Main Curriculum Focus
GSD focuses very clearly on preparing individuals for a successful career within management-level positions within the public and private sectors, principally through its 4-pillar approach:
Intellectual Attributes
GSD recognises that a successful career requires considerable intellectual flexibility to evolve and adapt to managing and leading within a dynamic and challenging workplace. A leader needs to be able to operate effectively within complex and unpredictable situations that require decision-making skills at the operational, managerial and strategic levels, sometimes in teams and sometimes autonomously. This calls upon the ability, amongst other things, to think analytically, holistically, critically and creatively. These attributes are developed through a progressively more rigorous approach to thinking skills from year one through to year three, with a high emphasis in the final year on developing critical thinking skills.
Leadership Competencies
A successful leader within any public or private sector is by definition allocating and managing resources, be they people, finances, building, equipment, stock etc, towards organisational goals. An effective leader within the public and private sector likewise has to be a good resource manager, especially when one considers the large responsibilities such leaders have to assume. These competencies are developed through a range of subjects within the curriculum such as: international law, international economics, international relations theory, diplomacy & leadership, etc.
Operational Skills
As with all International Relations schools, GSD programmes places a strong emphasis on developing leadership skills that can be employed quickly and effectively in the public and private sectors. This is important for the student's first internship period, as well as being important later on in their career when operational competence is still expected from managers within the above mentioned sectors. GSD focuses very heavily on developing students as leaders of the future - yet teaches its students (in accordance with the GSD motto, serviendo guberno) - that to govern is to serve. The ultimate aims of Geneva School of Diplomacy and International Relations are, therefore, the solid advancement of peace and human rights.
Overall Professionalism
As with any sector in the public or private domain, professional leaders need to 'look the part'. GSD maintains this 4th pillar as an essential component of the School's mission statement. The professional image is developed every day during the student's time at the School through a strict code for dress and grooming, as well as an emphasis on timekeeping, punctuality, courtesy and equal respect for all members of the School's community (and society at large).
Recent and Current Changes
GSD's educational 'formula' has gradually evolved over the years to reflect changes within industry, business, and society, but the School remains committed to retain the dual emphasis on the 'to govern is to serve' motto to Diplomacy and International Relations career preparation and the higher educational approach towards intellectual development and lifelong learning skills. Current changes within the educational sphere are also having an impact, such as the increasing emphasis on 'learning', the outcome and raison d'être of 'teaching'.
For example, it is becoming increasingly evident that large classes of mass lecturing is effective for conveying information, but this method ignores the different learning styles and motivations that may exist within a large classroom (especially within a multi-cultural community). An earlier solution to this problem would have been to have smaller classes whereby more 'tailoring' could be achieved, but the increasing pressure on controlling costs within education means new approaches to teaching (or generating learning within) large groups of diverse students needs to be sought.
One approach that might achieve a higher level of learning effectiveness within large diverse groups that is gaining popularity amongst the university sector is an emphasis on 'blended learning'.
Blended Learning
Blended learning has been defined in many ways, but in principle it is seen as a coordinated strategy using multiple methods to achieve the set learning objectives. Blended learning appears to lend itself particularly well to increasing learning across mixed groups of students, such as that experienced at GSD. Using multiple methods is not new, but the deliberate coordination of such methods towards clearly specified objectives is now considered to be a priority within many educational initiatives within the English-speaking world. Because of its mixed community and the pressures to increase learning without increasing costs, GSD clearly sees the importance of this approach within its own LTAS. This has recently been reinforced by the SCQF.
Blended Learning Methods
Blended learning can include a combination of face-to-face and off-site methods (especially 'virtually' through electronic means) as a way to cater to varying learning styles and motivations, but its use is becoming more and more pedagogical as it is becoming more practiced and understood. However it needs to be recognised that technology-assisted blended learning goes beyond an information depositary, such as an intranet, but includes carefully designed pedagogical elements within a coordinated approach.