BA-IR - Bachelor of Arts in International Relations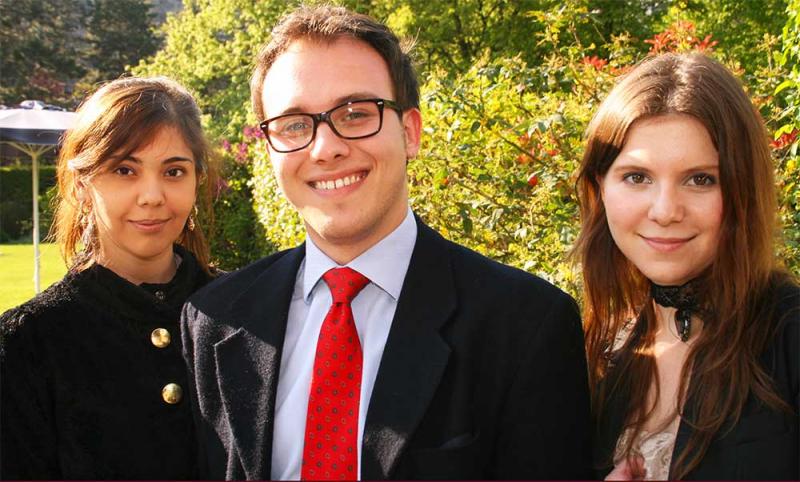 The three-year study course in the Bachelor of Arts in International Relations (BA-IR) Programme is challenging, stimulating and practical. The BA-IR Programme aims to introduce students to the broad field of International Relations, its basic concepts, theories and methods, as well as specialised and interdisciplinary fields. Students will be trained in research, analytical, and presentation/communication skills.
The BA-IR Programme has been established to cater for the interests of students seeking both a broad scholarly understanding of the way the world works, and/or for those preparing for a variety of employment options related to international careers in government, business, non-government organisations, media and international agencies.
Entry requirements
Students are required to have completed any recognized school leaving certificate, the International Baccalaureate Programme, A-Levels, American Placement, French baccalauréat, Maturita, Abitur, etc. to be able to apply for the Bachelor's Programme. Due to the diversity of applicants, there are other international qualifications that we may accept as equivalent of a university entry level.
As the language of instruction is English, you need to submit a proof of your language proficiency.
Graduation Requirements
A normal year of full-time study, therefore, earns the student 60 credit points towards the necessary graduation total of 180 credit points (ECTS), achievable in three years.
The internship programme and other special events/study experiences throughout the academic year are mandatory components of the programme.
Nowadays international law is recognized as an important tool for providing order to world politics and for minimizing global conflict. International law also provides the legal framework for the international relations and diplomacy, which makes it crucial for the future diplomats, world leaders and international civil servants to have solid theoretical knowledge and practical skills in this area.
Teaching of International Law at GSD is supposed not only to provide the students with theoretical concepts, but also to develop necessary skills and competences for efficient fulfilment of practical tasks during the students' future professional activities as diplomats, international civil servants, representatives of intergovernmental and non-governmental organizations, states' decision-makers, experts and other specialists in diplomacy and international relations.
The Modules shall give the students fundamental knowledge of a number of key concepts in international law, help them understand current events from the position of international law and feel confident using the international legal terminology.
The Module on Special issues examines basic branches - law of treaties, human rights, diplomatic and consular law, law of international security, law of international organizations, etc. The Module gives the basics of concrete branches of international law, which govern the relations of states in certain areas. These branches form the backbone of international law being also some of the predominant spheres of international relations, and the Module shall develop practical competences in dealing with the relevant issues of international law.
The aim of this module is to develop knowledge and understanding of the philosophical, historical and methodological origins of Economics and its nature and significance in society and International Relations. The students are expected to understand various methods of Economics analysis, to be able to analyse schools of Economics thought, case studies and Economic policies applied around the world. The module also aims at introducing the students to comprehensive, methodologically sound economic research.
Additionally, the module gives an overview of the historical context, development and origins of current Economic theories, its main sources and different branches, the main actors as well as the most important Treaties and norms ruling the international system. Part of this module is the application of these norms and procedures to monitor compliance and mechanisms of enforcing them on the basis of specific historical cases.
The aim is to introduce students to the study of Political Systems and International Relations. While the students are provided with an understanding of the discipline's main theories, basic concepts and puzzles, their understanding of International Relations is deepened by introducing them to issue areas of the study of International Relations. More specifically, these modules aim to establish an understanding of the nature of the international political system, and the theoretical issues underlying political analysis at the global level. It also aims to establish an appreciation of the history of the analysis of international relations as an academic discipline. Throughout their studies, students will examine a range of theories of International Relations including realism, liberalism, poststructuralism and feminism. Students will evaluate the utility and power of these theories with regard to some key issues in international politics including terrorism, security, nuclear proliferation, hunger, migration and development.
Furthermore, a multidisciplinary approach that incorporates geographic, strategic, historic, cultural and economic dimensions, facilitates a more profound understanding of contemporary international relations. Different concepts and approaches of geopolitical analysis are presented. Various case studies and geopolitical configurations are examined in the programme. Students are introduced to the complexity of foreign policy decision-making and by taking into account challenges both related to the dynamics of domestic politics and international trends related to globalization and enhanced interconnectedness. It also aims at illustrating respective dilemmas ranging from international security to trade and environmental policies.
Students are introduced to development studies as an inter-disciplinary subject. The courses taught are designed to brief students on topical aspects of globalisation, namely economic globalisation. It takes a political economy approach to the politics of globalisation and how it is managed, its existing rules and institutions, and thus its current problems. It will also deal specifically with experiences of different countries and regions with economic globalisation as we understand today, in order to appreciate the necessary changes that are required to reform the current globalisation process to ensure development for all.
The aim of this module is to provide a comprehensive understanding of concepts of global leadership and governance and the importance of individual leader's perceptions and actions for decision-making in a multilateral forum. The modules examine the UN as a primary forum for global governance as well as the successes, and main challenges in combining the decisions by Member States in the Security Council and the General Assembly. In addition to that, the necessary reform of this institution as the key tool to govern the new multilateral world will be discussed. Students of International Relations will be prepared to become the future protagonists of this transition. The modules are designed to introduce students to the complexity of foreign policy decision-making by taking into account challenges both related to the dynamics of domestic politics and international trends related to globalization and enhanced interconnectedness. The aim is to illustrate respective dilemmas ranging from international security to trade and environmental policies.
The modules aim to give students an understanding of the public ethics of politics, law, economics, and institutional frameworks in the current international context. It goes beyond the notions of good governance, best practices and transparency to discuss the need for principles-based national, international and global policy making and management.
The aim of this module is to further expound contemporary conflict and security issues to students. As part of the module, current trends relating to migration issues and the implications for international security will be discussed. Students learn to distinguish between various types of migratory phenomena, their legal and political status and the main actors responsible for their operational protection. The module further aims at familiarising the students with security challenges in traditional conflict and post-conflict situations. The module aims at clarifying the complexity of terminological and operational aspects of the peace-, state- and nation-building agenda. The course is aimed at developing awareness among students, as future international leaders, of how international legal and policy frameworks are applied in practice. It will provide insight into how the international system works to protect universal rights in sometimes highly challenging situations. This module therefore takes an inter-disciplinary approach including contributions from political science, international law, economics and sociology, taking into account various actors and stakeholders. It critically discusses the multiple dilemmas that may emerge between the international community's moral responsibility to protect and the challenges of ensuring human security.
GSD students of the Bachelor and Master level have the opportunity to do internships as part of their curriculum in International Relations. This is an ideal way for students to gain practical experience and apply theoretical knowledge to real world issues.
Find out more about the Internship Programme and about the Internship experience of our students.
This module gives students the opportunity to do research and to produce a thorough piece of academic writing (credit value 30 ECTS) on a topic of their choice (agreed with by their academic tutor and advisor). The module includes a series of workshops and modules on how to formulate research questions, on how to compose academic texts, on how to use references, on research methods, on research 'ethics', and on presenting papers at academic conferences. Each student will have an advisor, who will guide the student towards the relevant literature, help with the design of the dissertation project and offer subject specific advice. All dissertations must be written in English.